Donate Now!
Po Leung Kuk Kindergartens-Primary Schools Alliance

In the 2023/24 academic year, the Po Leung Kuk implemented the "Po Leung Kuk Kindergartens-Primary Schools Alliance" policy to enhance resource sharing and connectivity among 24 primary schools and 24 kindergartens across seven regions in Hong Kong, Kowloon, and the New Territories. The policy aims to optimize resource utilization and foster diverse and multidimensional collaboration, creating a greater synergistic effect. It allows kindergarten students and parents to benefit from primary school resources in advance while promoting connectivity among stakeholders, including principals, teaching teams, students, and parents, to enhance the overall effectiveness of early childhood education services.
Professional Steering in Pursuit of Excellence
Po Leung Kuk actively promotes quality and diversified education services. With more than 75 years of experience in education, our teaching team is highly professional and familiar with the unique characteristics of different districts in education, building a deep connection with parents and the entire community.
Po Leung Kuk's affiliated schools have established a robust network of teaching resources, while principals and teachers continue to undergo professional training and exchange programmes to help children thrive and grow.
Enhancing Potential & Promoting Whole-person Education
The Po Leung Kuk affiliated kindergartens and primary schools work closely to implement the "Po Leung Kuk Kindergartens-Primary Schools Alliance" to share the diversified and quality resources. In addition to opening up their campus facilities to the kindergartens in the same district, the primary schools also arrange a variety of "Trial Experience" activities and learning opportunities, including Music, Sports, Arts and Culture, Biliteracy and Trilingualism, Innovation and Technology, etc., to arouse children's interest in learning and their spirit of exploring through different enriching activities. Po Leung Kuk kindergarten students can enjoy a fulfilling and outstanding learning experience, broaden their horizons and acquire an early understanding of primary school life for better preparation for their future.
Experience the STEM, programming, visual arts, music, and sports activities of primary schools.

Enjoy the use of music rooms, libraries, sports venues and assembly halls of primary schools for learning activities.

Participate in different special events of primary schools, e.g., the Chinese Culture Day, Chinese New Year/Christmas Celebration, Joint School Sports Day, etc.

Provide parents with seminars on parental education and preparation for their children's transition to primary school.

Kindergarten and primary school students can interact and grow together for peer development.
Nurturing Pleasant and Positive Children
Po Leung Kuk has implemented different types of "Positive Education Programme" in affiliated kindergartens, primary and secondary schools to cultivate students' positive attitudes, motivation to learn, willingness to experiment and facing challenges. The Education Bureau has highly commended the effectiveness of these programmes.
The Kuk has also established various Education Development Funds covering sports training and development, creativity and technology, emotional and mental health, etc., so that students can have the opportunity to realise their unlimited potential in a quality and resource-rich learning environment.
Sharing of parents
Po Leung Kuk Kindergartens-Primary Schools Alliance — School Distribution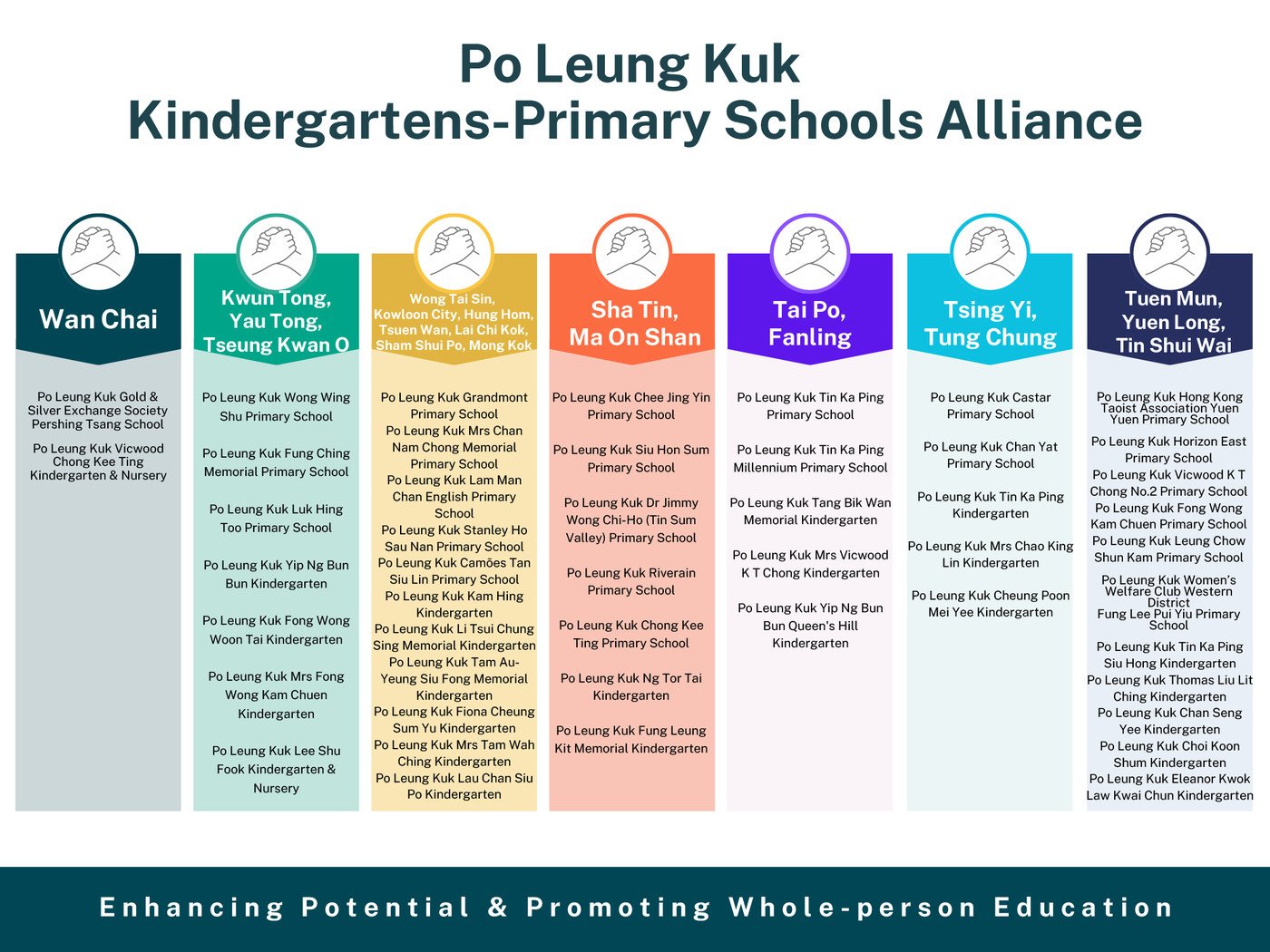 Media Report