Donate Now!
Conservation of Collection
Built in 1932, the headquarters of Po Leung Kuk is designed by Mr Iu Tak Chung, one of the earliest Hong Kong Chinese architects and the Kuk's Director. Despite its long history of nearly nine decades, the heritage continues to serve as the home for the Kuk's children and office premises and witnesses our development. The Kuk is dedicated to the conservation and promotion of the charity's collections for passing on our history and culture.
The couplets and the plaques of previous directors inscribed in the main building have recorded the long history of the Kuk and Hong Kong. The museum has regularly applied gold leaves on the historic inscriptions for inheriting our history.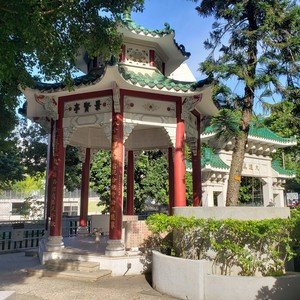 Constructed in 1957, the King Yin Pavilion is a Chinese renaissance architecture inspired pavilion supported by eight vermillion pillars. To ensure this historical treasure is properly preserved, the museum has removed the stains and restored the plaques of the Pavilion, as well as re-gilded gold leaves and repainted the inscriptions in recent years.
History Seminars and Guided Tours
Since our establishment, the Po Leung Kuk Museum has preserved a diverse collection of historic records and cultural treasures of the Kuk over 140 years. History seminars and guided tours, displaying the Kuk's philanthropic development and the changes of Causeway Bay and Chinese culture from past to present, are hosted regularly to the public free of charge, thereby passing on our spirits from generations to generations.