Donate Now!
Po Leung Kuk is fully committed to environmental management and sustainable development by implementing a number of measures to reduce electricity consumption, carbon emission and wastes.
Resource Management
The Kuk has actively taken forward the environmental strategy of resource management, striving to minimise waste generated and resources consumption by various means, and adopt good practices in recycling and reusing in our workplaces, including but not limited to:
Collecting waste electrical and electronic equipment from our units and the public through the "Eastern Community Green Station" and "Sham Shui Po Community Green Station", for which will be transferred to suitable recyclers for handling, and turn waste into valuable resources

Widely installing the three-coloured waste separation bins and central recycling point at the headquarters for recycling

Setting up food waste machines to decompose food waste

Allowing transfers of used furniture among affiliated units

Printing/ photocopying on both sides and reduce printing to lower paper usage

Encouraging all units to use reusable tableware and avoid disposable ones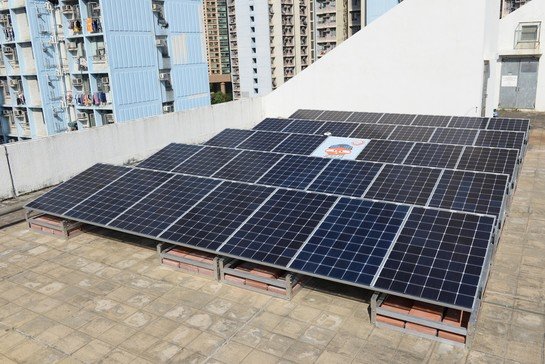 Solar panels with internet connectivity are widely installed at the headquarters and in the school premises of the Kuk's affiliated kindergartens, primary and secondary schools, in support of energy-saving and the use of renewable energy.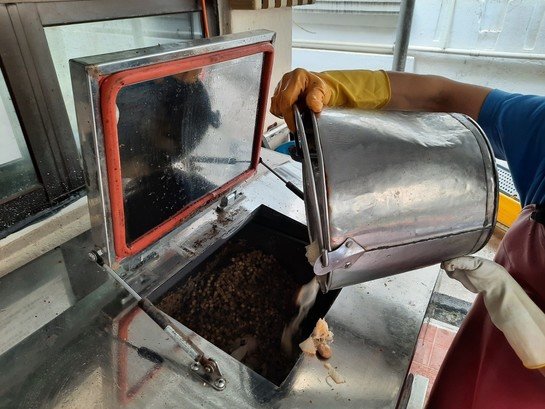 Food waste machine is set up at the headquarters to process more than 50 tons of food waste every year. The food waste would be decomposed and converted into water and then discharged through the drains, so as to minimise the impact on the surrounding environment.
Energy Saving and Carbon Reduction
To reduce energy consumption, the Kuk takes an active approach to energy conservation in the workplace. Staff are reminded to switch off lights and air-conditioners when leaving the office, and to turn off electrical equipment when not in use.
We also strike to minimise energy consumption, enhance energy efficiency and contribute to carbon reduction by improving our facilities. Headquarters, affiliated schools and service units have joined "Solar Harvest - Solar Energy Support Scheme for Schools and Welfare Non-Governmental Organisations" organised by Electrical & Mechanical Services Department. By installing solar energy generation systems and enlisting in the Feed-in Tariff (FiT) Scheme, the development of local renewable energy is promoted.
Besides, various affiliated schools have joined the "Green Schools 2.0 - Energy Smart" Support Scheme by Environment Bureau, to replace existing appliances with inverter air-conditioners, T5 LED tubes and fluorescent lamps, as well as installing Real-time Energy Monitoring Systems, promoting sustainable school living.