Standing Together with Po Leung Kuk in Benevolence
We cordially invite you to donate in support of the Kuk's various services, to provide timely assistance to those in need:
General Donation: Your donation will be used to support various services of the Kuk
Select Other Donation Items/Programmes to support designated groups
Remarks:
Complete the donation form and send it together with a crossed cheque made payable to "Po Leung Kuk", a bank deposit slip (original copy) or credit card (Visa, MasterCard, American Express, Diners Club) information to Po Leung Kuk, 66 Leighton Road, Causeway Bay, Hong Kong.
Donations of $100 or above are tax-deductible. An official donation receipt will be issued by PLK.
Online Donation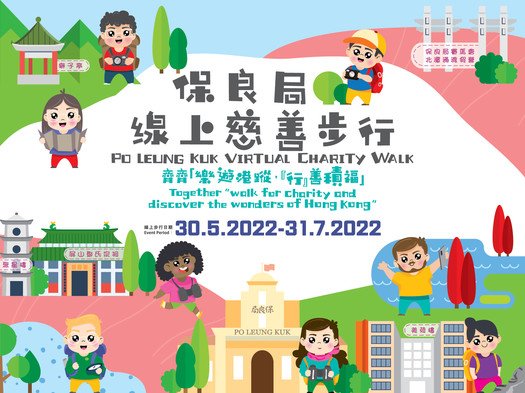 Po Leung Kuk Virtual Charity Walk
As the epidemic wave has continued to subside and the society has gradually resumed social activities, the Charity Walk will be held in a virtual form to encourage people to exercise more during the anti-epidemic period in order to maintain health. With the theme "Walk for charity and discover the wonders of Hong Kong", participants can take part in the Charity Walk from 30 May to 31 July 2022 (dates inclusive), in a more flexible way. At the same time, participants can invite families and friends to join the walk and raise fund for the Kuk.
All the expenses of this campaign is sponsored by the Kuk's Board of Directors, all generous donations will be fully used to support the Kuk's over 300 service units and benefiting more of those in need.
---