Standing Together with Po Leung Kuk in Benevolence
We cordially invite you to donate in support of the Kuk's various services, to provide timely assistance to those in need:
General Donation: Your donation will be used to support various services of the Kuk
Select Other Donation Items/Programmes to support designated groups
Remarks:
Complete the donation form and send it together with a crossed cheque made payable to "Po Leung Kuk", a bank deposit slip (original copy) or credit card (Visa, MasterCard, American Express, Diners Club) information to Po Leung Kuk, 66 Leighton Road, Causeway Bay, Hong Kong.
Donations of $100 or above are tax-deductible. An official donation receipt will be issued by PLK.
Online Donation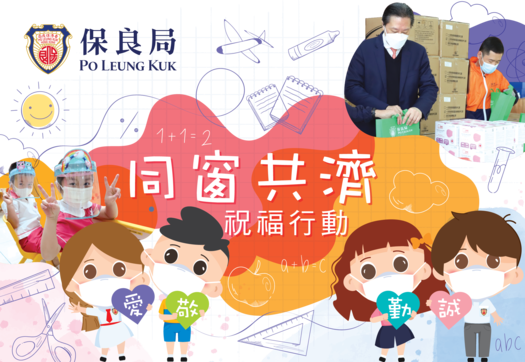 In view of the pressure families in need have to face due to the lack of relevent supplies needed for the recent resumption of classes, the Kuk have launched the "Support Your Schoolmate" Love in Action Initiative, to provide anti-epidemic relief packs with rapid antigen test kits and masks etc., for students in need at 100 affiliated secondary and primary schools, kindergartens and kindergarten-cum-nurseries.
We sincerely hope to appeal to you as parents to donate and support our initiative. Every $100 donation can provide 2 weeks of anti-epidemic supplies to a student in need. We urge you to give the gift of love to help us provide assistance to relieve the pressure on our students and their families in need and fight the pandemic together.
---